BOTTLED WATER GUIDE
How Often Do I Need to Sample?
Weekly – you must collect samples of each type of finished bottled water for fecal coliforms or E. coli testing.
Quarterly – you must randomly collect samples for aerobic plate count analysis of at least four containers and four closures. The containers and closures are sampled by either using a swab of the container and cap, or a rinse of the container before filling or sealing the bottle.
How Do I Submit a Water Sample?
Check with the laboratory that you will be working with for direction regarding the type of sample containers to use and how much water will need to be collected. For more information please see the Guidance for Quarterly Bottled Water Container and Closure Requirements.
What Are the Levels At Which My Samples Would Not Meet the Requirements?
Weekly samples must be free of coliforms.
Quarterly samples must be free of coliforms, and no more than one of the four samples may exceed:
one bacteria per milliliter of capacity (preferred and easiest method); or
one colony per square centimeter of surface area.
What Should I Do If I Get an Unacceptable Result?
If the results of weekly sampling are positive for coliforms you must:
immediately notify the department
submit additional samples from the same lot as the initial positive sample (or the next available lot if initial lot if not possible) for analysis within 24 hours or next business day of receiving notice that the initial sample was positive;
detain the product pending the results of the additional samples;
notify the department of results of the additional samples; and
keep a record of any actions taken.
If the results for quarterly bottle and closure samples exceed limits you must:
review your transportation, storage, and bottling procedures to find the source of the contamination;
immediately correct any deficiencies found; and
keep a record of your review.
Specialty Testing Packages
Problem Check- An informational testing package developed for people experiencing problems with iron and/or other aesthetic problems such as odor, taste or discoloration. This package can be used for well water and city water.
Corrosion Check – An informational testing package that was developed for people who are experiencing signs of corrosion in their plumbing fixtures.  This test analyzes contaminants that can specifically affect corrosion.  This package can be used for well water and city water.
Waterborne Pathogen Panel- This test focuses on pathogens in water systems that can cause illness. Several of these organisms are indicators of sewage contamination, making this a good test for anyone who suspects their water has been contaminated by sewage or animals waste.
Complete RO Screen- The Complete RO Screen was developed to be the most complete analysis available for reverse osmosis design. The Complete RO Screen offers a comprehensive, in-depth analysis of parameters necessary to determine the proper reverse osmosis system specification.
quick series testing provides water analysis in as quick as 2-3 business days from receipt of the water sample. These tests are an excellent tool for home inspectors or realtors involved with home sales. When time is critical, these tests can provide quick answers to very important questions about water quality in the home.
Beginner's Guide to Pool Water Testing
have all heard of "testing the waters" but when comes to swimming pool maintenance, water testing is the best route to an easy to maintain pool. You have to do more than touch the water to test anything more than the temperature. Test kits, strips and readers are used to check pool water balance levels.
Why Test Pool Water?
A swimming pool is just a hole in the ground without water, and swimming is no fun if not experienced in clean, clear and healthy water. Since swimming pools are generally used by multiple people at any given time, it is imperative that pool water is tested and treated regularly to prevent the spread of infectious illness and enhance the pool experience.
What Water Tests are Needed?
In order for us to have a sparkling clean and well-balanced pool, we have to ensure that the levels of pool chemicals stay within the ideal range of:
pH: 7.2 – 7.6
Alkalinity: 80 – 120 ppm
Calcium Hardness: 180 – 220 ppm
Chlorine: 1-3 ppm
Bromine: 3-5 ppm
Cyanuric Acid: 30 – 50 ppm
How Often Should I Test Pool Water?
It is recommended to test your pool water at least weekly and add chemicals if you see an increase/decrease in ideal chemical levels. More precisely however, pH and chlorine levels should be tested more often, perhaps daily until you come to a good understanding of how they fluctuate.Other readings, for calcium, alkalinity and cyanuric acid, tend to move more slowly and can be tested weekly or even monthly in some cases.
How Do I Test Pool Water?
There are several types of testing supplies available on the market varying in price and accuracy. Since I work for a company that sells pool supplies, it was fairly easy for me to get customer input via our amazing review program, and I was able to narrow down the bestselling water testing supplies to make it easier for you to make the selection to your liking.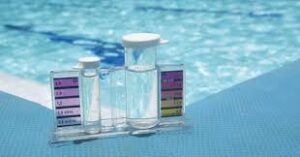 Flushing and sampling for lead
Children up to six years old are more sensitive to the effects of lead because they are still developing and their small bodies can absorb it more easily than adults. Even small amounts of lead can be harmful to young children, infants and pregnant women.
The law
By law, if you own or operate a school, private school or child care centre, you must:
flush your plumbing regularly
sample your water to test for lead
The regulation requires the flushing of plumbing in schools, private schools and child care centres. Flushing has been shown to reduce lead levels in water at drinking water fixtures. The regulation also requires sampling and testing to measure the concentration of lead in drinking water against the provincial drinking water quality standard for lead.
In this guide, you will see the term "drinking water fixture". For the purposes of this guide, this term means all drinking water fountains and every tap that provides drinking water or is used to prepare food or drink for children under the age of 18.
Remember, this guide is only a summary, and should not be relied upon for compliance purposes. You must refer to the text of O. Reg. 243/07 to be clear about your specific requirements for flushing, sampling and testing drinking water for lead
WATER TESTING GUIDE
What is in your dental unit waterlines? You've probably seen the pictures and you've probably read the news headlines – looking for the answer to this question is not without stress.
While dental waterline contamination has gotten more attention the last couple years, this is a danger that the dental industry has struggled to understand or control. In fact, at the Organization for Safety, Asepsis, and Prevention's (OSAP) Annual Conference last year,
The tough part about maintaining dental waterlines – and infection control, in general – is that, dental professionals are not and should not be experts in waterline science. We, your patients, sit in your chairs every few months trusting you to be fantastically educated and skilled medical professionals, not water scientists.
WHY TEST YOUR DENTAL UNIT WATERLINES?
Because on average even treated waterlines fail testing nearly 1/3 of the time. And non-treated lines are likely to have counts 200 to 400 times the CDC guidelines of ≤ 500 CFU/mL. ProEdge completed a study of over 22,000 consecutive waterline tests from our water test clients measuring the effectiveness of all major products in real-world settings
While using a high-level disinfectant to "shock" your waterlines and adding a low-level antimicrobial treatment to continually maintain them are both necessary for every effective treatment protocol, no treatment product is perfect, instructions for use (IFUs) can be difficult to follow, and biofilm never quits entering the lines to multiply and spread.