How to Choose the Right Hardwood Floor
Wondering how to choose the right hardwood floor for you? If so, you already know that choosing hardwood flooring is a great investment. They are durable, easy to clean, and can drastically increase your property's value. Whether you are moving into a fixer-upper, or just looking for a change, figuring out how to choose the right hardwood floor for your lifestyle is a must. Owning pets, living near the beach, or having a smaller space can all influence your decision. This guide will help you choose between solid or engineered hardwood, and walk you through the advantages of different hardwood species (yes, we said species) so that you can pick the right kind for your home.
First, let's go over the types of hardwood flooring that exist.
Types of Hardwood Floor
When considering how to choose a hardwood floor, first consider the two main types of hardwood — solid hardwood and engineered hardwood. Both types of flooring have their advantages and disadvantages, depending on where your home is located and how much foot traffic your hardwood floor will be subject to.
Solid hardwood is exactly what it sounds like. Each board is made of a single plank of solid wood. They are usually ¾ of an inch thick, meaning that they can be sanded down and refinished time and time again.
Engineered hardwood, on the other hand, is manufactured wood. The top and bottom layers are about 4mm thick and made of natural wood from different species. The middle of each plank is built of five to seven layers of man-made plywood, making them stable and resilient.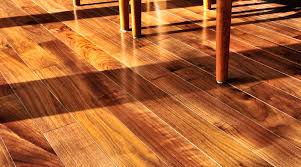 Choose the right size
Board size is another important consideration. Narrow boards are less expensive, but many people prefer the aesthetic of wider boards, which reduce the number of seams in the floor. The same idea applies to shorter versus longer boarders. The wider and longer a board is, the more expensive it is per square foot and the larger percentage of extra flooring you need to ensure it fits your room. A standard measure is to purchase 10% more square footage than you need, but this may increase depending on the shape of the room.
Compare hardwood floor costs
Costs can range from $1.75 per square foot up to $9 or more, depending on factors like species, width, and type. While engineered hardwood flooring is typically less expensive, the cost compared to solid flooring of the same species is usually just around $1 less per square foot. Additionally, prefinished wood may add another $1 per square foot compared to unfinished wood, but it also means you won't need to finish it after installation.One of the most popular species, Red Oak, runs about $4 per square foot unfinished and $5 prefinished, with additional costs for wider boards. More exotic woods or those that are harder and more resistant to wear are more expensive, while softer woods are typically cheaper.
Read hardwood floor reviews
Be sure to investigate the suppliers of hardwood floors, reading reviews and comparing different qualities. Some suppliers specialize in inexpensive flooring, while others offer a wide range of prices. You should also look for reviews on issues like warranties, shipping costs, and available widths. In addition to customer reviews, you should read reviews from contractors who can offer the perspective of someone who handles hardwood floors frequently.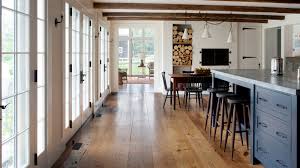 Why choose engineered wood flooring?
More and more people are choosing to fit engineered wooden flooring as opposed to solid timber floors — and there are many reasons for this decision.
Engineered flooring is available in an extremely wide range of timbers to suit any home, with various effects, such as 'aged' and 'sun bleached', available. They are also suitable for laying over many types of existing floor, such as concrete, unlike most solid boards.
In addition, most engineered flooring now comes pre-finished, meaning no waxing, lacquering or oiling for you, and a floor that is ready to walk on as soon as it has been laid. Plus, it is simple to lay on a DIY basis, so labour costs are saved.
How long will it last?
This very much depends on what kind of wear the floor sees and how thick the top layer of solid wood is. Guarantees vary from ten to 30 years.
The number of times a floor can be sanded and refinished also varies — the manufacturers' recommendations should be taken on this one. Some may recommend sanding no more than three times for thicknesses of 15mm. Generally, a professional sanding will remove around 0.5mm of the surface layer. However, bear in mind that some beautiful hardwood floors won't ever have been sanded and that dents and scratches can add to their character.
You get what you pay for… The cheapest floors tend to have a very thin top layer – as thin as 0.6mm – a minimal number of veneers in the core and fewer finishing layers.
The general rule is, the more layers the floor is made up of, the better.
At the lower end of the market, boards have a three-ply construction, are around 1/4 inch thick in total, have a 1-2mm topwear layer, and around five finish coats.
Next best are of five-ply construction, with a 3mm top layer, around seven finish coats, and a total thickness of ½ inch.
The best quality floors are made of up to nine plies, have a 7mm plus top layer, have around nine finish coats and are a total thickness of approximately ¾ inch.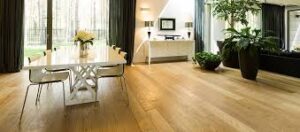 Width of Boards
The width of your hardwood boards will have a dramatic impact on the final look of your flooring. If you would like your flooring to visually expand the spaciousness of your room, you may want to select a narrow board width. Wider boards will provide your interior spaces with a cottage or country feel. You may want to try laying out certain board widths to see what they look like in your space.
Species of Wood
The species of the wood is another critical factor that you will need to take into account when you are shopping for new hardwood floors. Each species of hardwood has unique characteristics, including particular grains, strengths, and colors. Some popular hardwood species for homes include oak wood and cherry wood. To provide your floors with a unique flair, you can also consider unusual or luxurious hardwood species, such as mahogany.
Flooring Finishes
Your flooring finish will have a large impact on the final look of your hardwood floors. Natural hardwood floors can be finished using special stains or urethane products. Ideally, your finish should match with the overall look and color scheme of your home. To cut down on your installation time, you can also choose to install prefinished or engineered wood floors. Engineered hardwood floors will arrive at your home already finished, so they will be ready for use as soon as they have been installed.
How to Choose a Hardwood Floor that Fits your Style
Consider color, finish, and texture
Hardwood floors might be timeless, but they still go through trends. When figuring out how to choose a hardwood floor, remember your personal style along with your lifestyle. That way you will pick a flooring that will grow with you, your lifestyle, and your taste over time.
You can choose between various stains, finishes, and textures to create the look and feel you want for your home. If you have a small space, for example, you might want to consider a lighter stain such as blonde or even whitewash. If you prefer a more classic look, dark floors can be a good option. Keep in mind, however, that they are surprisingly hard to keep clean, and notorious for highlighting scratches.
Beyond color choices, you have finish options like glossy, matte and satin. How do you choose a finish for your hardwood floor? Most people steer clear of glossy these days, opting for the more natural-looking matte and satin finishes. If you like a little gleam to your floors, without the roller rink glare, satin could be the finish for you. It has just enough shine to add dimension, without making itself the star of your living room.
If you want an even more subtle, natural finish, matte would be your go-to. This finish gives hardwood floors a fresh, natural look. It adds a clean and contemporary quality to any room and, as a bonus, matte floors show the least amount of dirt and dust of any finish.
Now that you've selected your color and finish, you might be wondering how to choose a hardwood floor texture. There are four primary options when it comes to hardwood texture. The tried and true smooth wood is still going strong and is now accompanied by hand-scraped, wire-brushed, and distressed wood. After smooth wood, wire-brushed is the next most subtle. It leaves fine scratches in the wood, for a more natural look, whereas hand-scraped wood leaves each board with different ridges. Distressed wood has the most character, as the planks' knots, scrapes, and wormholes are made more prominent.