Tips For Preventing Toilet Troubles
DO clean your toilet regularly with a mild cleaner. Vinegar, baking soda, or a mild soap are all great for regular porcelain cleaning. Not only does cleaning your toilet help you keep a more hygienic, better smelling bathroom, it also gives you the opportunity to spot a leak or a problem with your bathroom's plumbing fairly quickly. If you never really clean up around the toilet area, how will you know if that water on the floor is from your shower, your toilet, or the sleepwalking male members of your household?
DON'T use chemical drain cleaners to unclog your toilet. While some plumbers say 'yea' and others say 'nay' when it comes to using these products, we say it's just not worth the risk. Not only are these products harmful to your health if accidentally splattered on your skin, consumed, or even inhaled too much, they can damage older fixtures and pipes, and really aren't something anyone wants in our water systems. They can also cause a lot of trouble for homes with septic systems if they kill off the good bacteria in there.
DO inspect your toilet's inner workings about every 6 months to make sure the components are still in good shape and functioning properly. Take the tank lid off and flush the toilet. Watch the components work, making sure the flapper is sealing well and the fill valve stops running at an appropriate water level.
DO fix a running or leaking toilet right away. Toilet leaks are typically "silent", in that you won't necessarily find a puddle of water on the floor since the water is usually leaking out from the tank into the bowl (and down the drain). This makes it fairly easy to overlook the leak, or to keep putting off fixing it. Toilet leaks are generally slow leaks too, so you might not even notice a small increase in your bills each month until you look back and realize you're paying $100 more for water this month than you did at the same time last year.
DON'T use a brick to save water in your tank. Unless your toilet is older than the mid-90's, you're using 1.6 gallons per flush (or less), and most sewage systems really do need that much water to effectively move the waste. If your toilet is older and you want to save water, we recommend filling a water bottle with sand or small rocks and using that to displace some of the water. Bricks can break down and clog your pipes.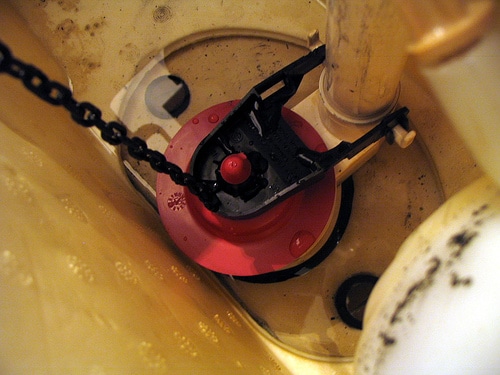 The Right Way to Use a Plunger
If your toilet's overflowing or your sink's stopped up, it's time to take the plunge! About 90 percent of the time, a clog can be cleared with just a couple of thrusts of a plunger. To make the messy job easy, though, it's important to have the right kind of plunger and the proper technique. As it turns out, not all plungers are created equal; some are best suited for sinks and showers, while others are appropriate for use on toilets. Once you've determined the best tool for the job, success is all about form. Contrary to popular practice, repeatedly flushing while frantically pumping won't release the blockage any faster—instead, it will break the plunger's seal and ruin the suction. To keep the water flowing freely down your pipes, avoid those amateur mistakes and learn to plunge like a pro with these valuable tips.
Pick the Perfect Plunger
Start at the very beginning: While there's probably a shelf full of plungers available for purchase at your grocery or home improvement store, the two most common styles are the cup plunger and the flange. It's smart to stock one of each and be familiar with their strengths so you can determine which one's right for your mini-emergency.
he Cup: When you think of a plunger, the image that comes to mind most often is that of a simple wooden handle attached to a rubber cup. It's this cup that gives the tool the name "cup plunger." This design is most effective on flat-surface drains, which are found in the sink and bathtub. While it works well for a sink, shower, or bathtub clog, the cup plunger can't create a sufficiently airtight seal in the curve of a toilet drain to produce adequate suction
The Flange: A toilet clog calls for a different type of plunger entirely: the flange plunger, which has an extra ring of rubber (the flange) around the cup. The flange is inserted into the toilet drain, sealing in the air and increasing the suction power. In a pinch, you can fold the rubber ring back into the bell of the plunger and use it to unclog a tub or sink drain, but a true cup plunger will be more effective
Plunging a Sink, Shower, or Tub
When using a standard cup plunger, start by covering the overflow drain, if there is one, with a wet towel. Doing so prevents air from escaping and decreasing the suction power. While you're at it, it's a good idea to seal off any nearby drains in sinks or tubs to ensure better results. To further improve the plunger's suction power, create a tighter seal by lining the rim of the cup with a small amount of petroleum jelly.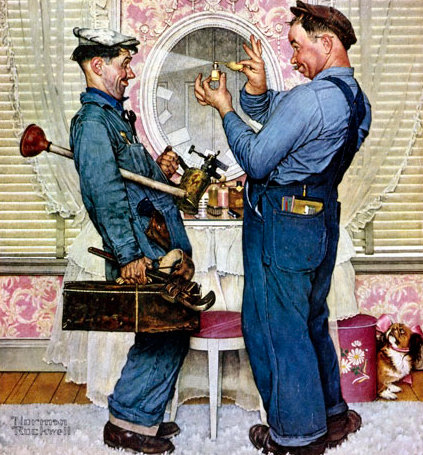 Unclog your toilet with this simple and ingenious trick — no plunger required
Over the course of many years, I've practiced and honed the ancient art of unclogging a clogged toilet without needing to use a plunger. Why not just buy a plunger? Simply put, I never needed to on account of this particular bit of washroom wizardry. This technique is especially handy if you ever find yourself staring down a stopped-up commode in someone else's bathroom with no plunger in sight — a situation in which you might be understandably reluctant to call for backup.
I didn't invent this particular process for plunging without a plunger — the same basic technique can be found all across the web on plumbing and DIY blogs, both mainstream and obscure — but I can attest to its power and might
Most bathrooms have everything you'll need
To perform this trick, you'll need three things that can be found in almost any bathroom: soap, hot water and a vessel for transferring the water to the toilet bowl. Dish soap and a 5-gallon bucket work best, but if secrecy is paramount and leaving the lavatory would blow your cover, a small plastic waste bin and a few pumps from a hand soap dispenser will do just fine.
Mixing the magical potion
The objective is to get the liquid in the toilet bowl as hot and soapy as possible without letting it overflow. You can either pour (or pump) soap directly into the bowl and then add hot water, or you can mix the soap with the hot water before you add it to the bowl.
Carefully and gently add the hot water
Mixing everything up in the toilet bowl is the step requiring the most finesse. You want to raise the average water temperature and get the soap into every crevice, but you don't necessarily want to create a slurry with what's already in there.
HOW TO PICK THE RIGHT PLUNGER
Sinks, showers and toilets can often become clogged for many different reasons. For many such jobs, a plunger can do the trick and get things rolling again. However, in order to ensure a job well done, you must think like a professional plumber and make sure you are choosing the right plunger
GET THE RIGHT TOOL FOR THE JOB
There are two main types of plungers, and each type serves a unique purpose. The classic flat-bottomed plunger is meant, perhaps quite naturally, for flat surfaces like sinks. In contrast, the more curved bottom of a toilet requires a protruding flange plunger, which looks like a flat plunger just with an extra bit coming out the bottom.
MAKE SURE IT CAN FORM A TIGHT SEAL
Plungers work by creating a vacuum within the drain, and then allowing you to use this vacuum to your advantage to unclog things. In order for this to happen, however, the plunger needs to be able to make a tight seal around the drain in question. This is why older plungers with cracks or holes in them don't work very well. Before getting a new plunger, be sure it is able to create a good seal both today and well into the future.
IS IT COMFORTABLE TO USE?
Sometimes, plungers don't work unless you put a little elbow grease behind them. Be sure you buy a plunger with good grip that is comfortable to use, as you don't want to strain yourself while clearing a drain.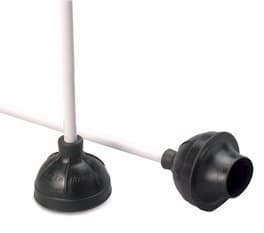 How to Unclog a Toilet Like a Plumber
It's every man's worst fear. You're at someone's house, you  finish doing your business and flush the toilet, but instead of going down, the water comes up along with whatever you just deposited in the bowl. Would you be paralyzed with panic in that moment? Or do you know what to do?
Thankfully, unclogging a toilet isn't hard at all. Even the most gnarliest of clogs can be taken care of with ease. To help us learn how to effectively unclog a toilet, I called up Rod from Roto-Rooter and got the scoop
top the Toilet Bowl From Filling Up.
If it looks like the water might overflow out of the toilet, Rod suggests taking the lid off the tank as quickly as possible and closing the toilet flapper. The flapper releases water from the tank and into the bowl. It looks like, well, a flapper. If you're worried that your flush has a good chance of turning into a flood, take off the top before you pull the trigger. Then you can keep one hand close to the flapper while the other hands pushes the flusher. The minute it appears the water is rising, you're ready to stop the deluge
Get the Right Plunger
Once disaster has been averted, it's time to unsheathe your plunger. To effectively use a plunger, you need a good seal between it and the toilet bowl. Funnel-cup plungers are the best plungers for this. They're the ones with a flange, or added piece, extending off the bottom of the rubber cup
Warm Up Your Plunger
Stiff, hard plungers don't work as well as soft and pliant ones. Run your plunger under some hot water before you use it. This will soften up the rubber, which will help you get a better seal on the toilet bowl.