MUST-KNOW BATHROOM REMODELING TIPS
PLAN YOUR BATHROOM
Before you even call a remodeling company for your bathroom remodel, you should first talk with everyone who will be using the space. Try to have a discussion about the fixtures and finishes you are supposed to use and how much of a budget you're willing to shell out. As you plan for your budget, it's important to have a little extra, because you never know if there will be some unexpected problems that will increase the cost later on.
How to Design Your Bathroom?
A lot of homes usually have at least one bathroom with a sink, toilet, and bathtub. Then, there are optional extras, such as the shower, and in some cases, a bidet. An extra sink is also a popular choice for most people, especially in households where the bathroom is often used by more than one person.
Customize Your Bathroom
Similar to a standard bathroom, a customized bathroom is filled with a number of suite fixtures. The difference is that the final design usually has a matching countertop and built-in cabinets around a certain area of the room.
Wet Rooms
These are the type of bathrooms that comes with a shower, minus the enclosure, and the water runs away through a drain installed in the floor. That's why it's important for the whole room to be waterproofed.
En Suite Attached Bathrooms
Due to the proximity of the bedroom to one's bathroom, noise is usually an issue for most homeowners. If there aren't any windows attached to the bathroom, an exhaust fan should be installed as it can help in removing moisture. Likewise, if you want to reduce the noise made by your toilet tank while it's being refilled, then you should install a modern inlet valve.
Most en suite bathrooms are attached to the master bedroom, but there may be exceptions depending on the layout of your home.
Design Tips to Know Before Remodeling Your Bathroom
Know What a Bathroom Remodel Costs
Before you begin any project, it's important to put your expectations into perspective when it comes to how much money you're willing to invest. The size of your bathroom, the quality of materials you want to include and whether you're planning to do some of the labor yourself all can affect the cost of a remodel.
Don't Make the Toilet the First Thing You See When You Open the Door
Ask a bathroom designer what his or her best tried and true tip is, and this is what you're likely to hear. The reasoning is simple. Oftentimes bathroom doors get left open, meaning that you or any guest in your home walking by will see the toilet — which, come on, isn't the most aesthetically pleasing thing to look at. If you're hoping for a spa-like vibe, putting the john front and center in the design can sort of kill the mood as you're transitioning into the room. So, what should you make the focal point? Anything but the toilet.
Consider Leaving Those Vintage Finishes
The point of your bathroom remodel might be a fresh, new look, but some things are easier to replace than others. For example, in older homes, wall tiles may have several coats of concrete and maybe wire lath. The difficulty in removing these can cause labor costs to skyrocket. Instead, you might want to keep the vintage tiles and spend your time and money elsewhere. Besides, vintage finishes such as tile can be a cool feature.
Plan a Lighting Scheme
The best approach to a well-lit space is to incorporate layers of task, accent, ambient and decorative lighting. Consult with your bathroom designer or lighting specialist about getting your lighting right.
Understand Standard Bathroom Dimension
Knowing a few key measurements, like the size of a typical bathtub and how much space is needed for a toilet, will help you plan your remodel more efficiently.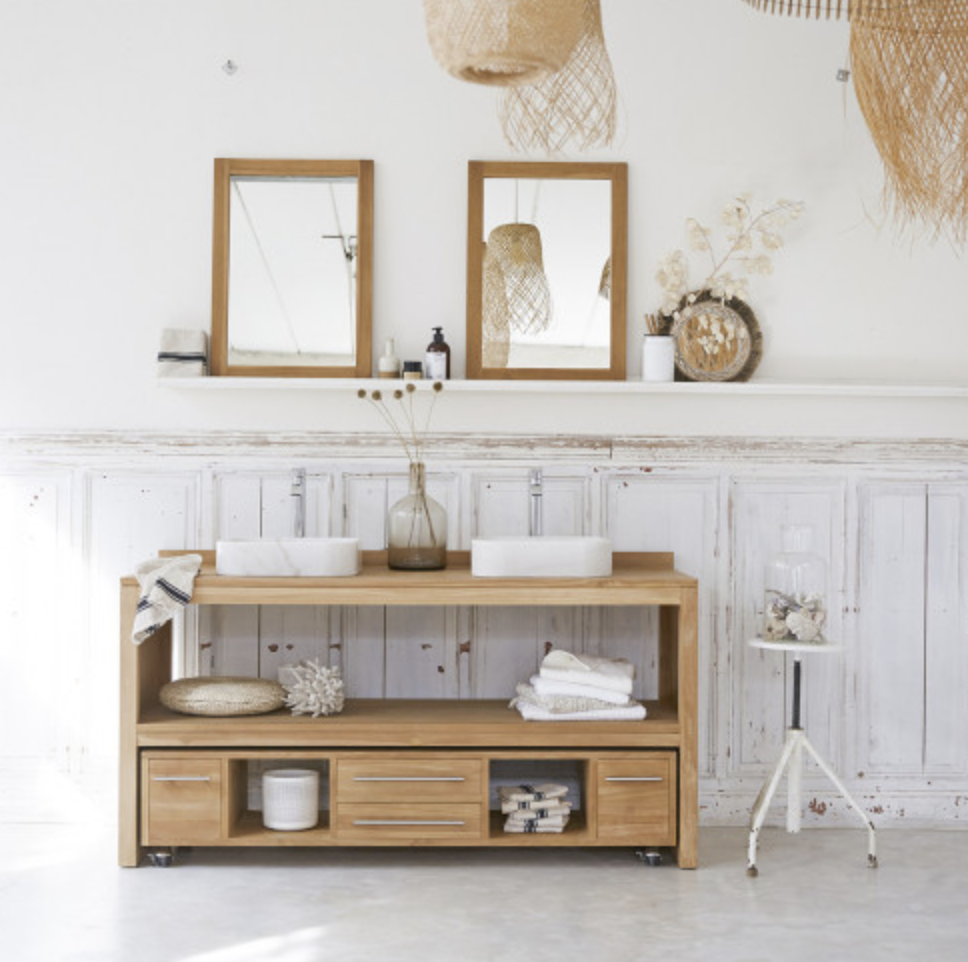 tips from the experts to help you remodel your space
CHECK MATERIALS ARE SUITED TO A BATHROOM ENVIRONMENT
Always choose materials that can withstand the conditions of a bathroom. From appropriate bathroom flooring to waterproof paints and sealed wall tiles, there are products designed to withstand high volumes of water.
REMEMBER TO INCLUDE PLENTY OF STORAGE
Nothing can ruin a nice new room faster than clutter, so don't forget about bathroom storage – our feature is full of handy solutions. Use storage furniture and baskets to keep everything out of sight (apart from your posh toiletries of course).
A BIGGER SPACE WILL NEED MORE HEAT
If you are extending the bathroom space, don't forget that this will mean a larger area to heat. Re-assess existing heating and upgrade the heat output if needed with a more powerful towel heater or radiator. You could also take the opportunity to include underfloor heating. At the same time, check that the water pressure isn't affected by the addition of new sanitary ware.
INVEST IN ONE STATEMENT FEATURE FOR A LUXE LOOK ON A BUDGET
Choose one feature that will give your bathroom a standout, luxe feel. This might be a freestanding bath – take a look at our pick of the best rolltop baths for traditional homes – or splashing out on some really fancy taps. Or, if you've found tiles beyond your budget, use them on a statement wall with a more affordable complementary tile elsewhere.
DON'T GO OVERBOARD WITH LIGHTING
Opt for pendant lighting — a single central fitting will prove much cheaper than individual downlights or wall lights. Check out multi-bulb fittings that only require a single power cable, for a flexible scheme.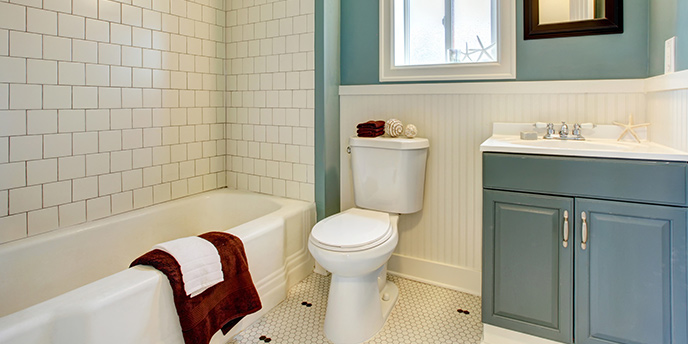 How to Remodel Your Bathroom From Start to Finish
How Much Does a Bathroom Remodel Cost?
According to List, the average total cost of a bathroom remodel is between $10,000 – $15,000, with labor costs taking up at least 20% of the budget. By going the do-it-yourself remodeling route, you can expect to save as much as a few thousand dollars.
Establish Your Bathroom Makeover Design
Before you do any bathroom remodeling yourself, you should settle on a new design that fits your vision, as well as your skill set. There are so many different ways to approach a bathroom makeover, ranging from swapping out the vanity to gutting the space and starting over from scratch.
Gather Your Remodeling Tools and Supplies
Of course, you may need a few things outside of your essential homeowner tool collection, but the exact tools required will vary based on your renovation plans. But these are a few essential tools to have on hand for any bathroom renovation.
Install Your New Shower or Tub Basin
After you've gutted your bathroom, its time install your new fixtures. For a shower or tub replacement, you'll want to pick a pan or basin that fits your new decor, as well as the space where your current tub sits.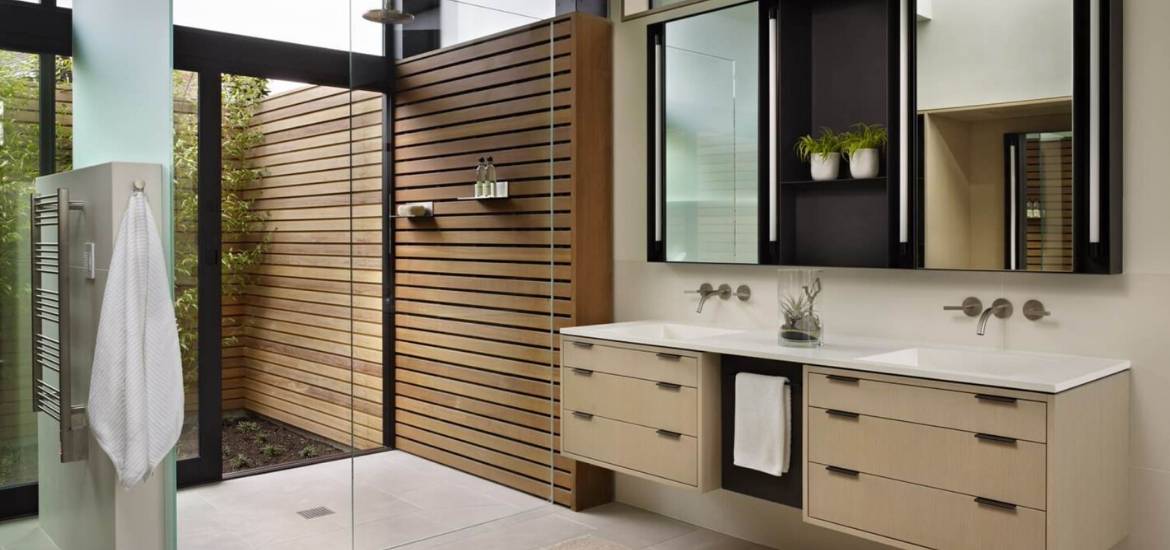 Tips for Remodeling a Bathroom
The best place to start with any remodeling project is the budget. Not only will it have a big impact on the type of materials you select for your bathroom renovation, it will also help you set the boundaries of your design. Knowing what you can really afford to spend will make it a lot easier to decide what items you want to replace and where you need to get creative!
Going "green" is not only good for the environment; it's also good for you. Green products have great design, tend to function better, which lowers utility bills, and they're also chemical-free, making them better for your health. Having an eco-friendly approach to remodeling isn't just about buying new products, doing something "green" can be as simple as painting a cabinet instead of tossing it in a landfill.
Want to save some big bucks remodeling your bathroom? Consider refinishing existing items such as your bathtub, shower, sink or tile. With refinishing, you'll only pay a small fraction (as little as 10 percent) of the cost of replacement. Your bathroom won't be torn up for weeks, you'll avoid the big renovation mess and you've put one less big ol' tub in the landfill
Don't want your budget to skyrocket? Don't move your plumbing. On the surface, switching your sink and toilet around may look easy enough, but the problem lies underneath and all the costs involved in moving that plumbing. Besides, if you spend less money on moving fixtures, you'll have more to spend on that new sleek shower system or vanity you've been eyeing.
Be brutally honest about your DIY skill level. Assess which projects to do yourself and which are better left to the pros. You could save yourself a ton of money in the long run if you don't have to call someone in to fix a project you've messed up. The best way to find a good contractor — seek referrals from friends, family, neighbors, co-workers and others who have had remodeling work done.