TOP TIPS FOR CHOOSING A WEDDING PHOTOGRAPHER
Image quality/style
The quality of a photographer's portfolio should be the first thing that captures your attention. A good photographer should be able to offer clients a variety of styles, capturing the personalities of the bride and groom and showcasing the happiness and fun of the day. Be clear on what style you would like and make sure the photographer can provide this in their portfolio.
If you are drawn to a particular photographer, make sure you ask to view all of their images (not just the favourites they pick for their websites!) so that you can check the image quality is consistent throughout.
Be aware that photographers have different editing techniques. If an image is heavily edited then chances are this will be a common theme within their photography portfolio and is usually an attempt to try to cover up poor quality.
Above all, the style of the images should say something about you both as a couple. Whether you are looking for relaxed and informal photography or you would like to go for a more adventurous and contemporary style, be sure to do your homework and shop around.
Personality
As a bride and groom, you put a lot of trust and faith in your wedding photographer. In order to get the best images and a true account of the most important day of your life, it is imperative that you feel comfortable and relaxed in their presence.
You can usually tell within the first 5 minutes of meeting someone, whether you feel a rapport or connection. First impressions are key and if you instantly strike a bond then you are on to a good thing. If you feel uncomfortable around your photographer for whatever reason then this will become very apparent in your wedding photos.
Also, think of your guests. If your wedding photographer is approachable, friendly and down to earth, your guests will be at ease allowing the photographer to blend in and capture the day as it naturally unfolds rather than a forced and posed account.
Remember, a true smile is impossible to fake so choose wisely and ensure you meet with your photographer a couple of times before confirming your booking.
Value for money/cost
This can often be a deciding factor for a lot of brides and grooms and although it is a vital element, it should not be the basis for your decision. High-end prices do not always guarantee the highest quality but likewise, reasonable pricing does not always depict low quality.
A photographer should be open about their pricing structures and in turn, you should be clear on your budget. Neither one of you wants to waste any time so a clear dialogue right from the beginning will resolve this.
Your photographer should offer a variety of packages to suit all and should always be flexible with pricing and what is included within each package. Your photographer is providing a service and each couple will have different expectations and requirements so do make sure that your photographer can tailor make a package to suit your needs.
Always remember to ask about any hidden extras. Some photographers charge an additional fee for editing, VAT, creating artwork for an album or even travel and food expenses. You should always ensure that all costs are detailed in a quote before entering in to any contractual agreement.

Steps to Finding a Great Wedding Photographer
Settle on a Style
Before you begin researching photographers, you'll need to first decide what type of photography style you prefer, as that will help determine which kind of photographer you'll want shooting your wedding. Get inspired! Spend time pouring over any kind of imagery you love, from décor shots to a fashion blogger's Instagram feed. Once you have a good collection of inspiring photographs, try to narrow in on what draws you to them specifically and dissect what feels most authentic to you and your partner. Maybe that's formal-posed portraits, a classic photography style or a lifestyle, photojournalistic feel. If you love sharp and contrast-y shots, perhaps a photographer with a flair for the dramatic is the right choice for you. Remember that you don't necessarily need to narrow in on one style in particular, since many wedding photographers can do a blend of portraiture and documentary-style shots, a mix of black-and-white and color images and so on. But if there's a special style you love, make sure to focus on photographers who specialize in it.
Do Your Homework
Start your search by reading reviews from recent newlyweds and browsing local listings. Carefully review potential photographers' websites and blogs to check out photos of other weddings they've shot, which will give you an idea of their style. How do they capture the moments important to you, like a mother bustling her daughter's gown or an emotional first look? The design of the website may also have clues about the photographer's personality and sensibility. Check out their Facebook, Instagram and Twitter pages too, if possible. Is the feedback from clients positive? How does the photographer respond? How do they interact with their Instagram followers, do they seem friendly and personable? You get the idea.
Set Up Interviews
This is not a decision that can be made on looks alone—you must meet your potential photographers in person. If you like what you see on their site—and their fees are in your ballpark range—call to see if they're available for your wedding date. If available, go ahead and send an introductory email with a bit about you and your soon-to-be spouse, you event and the vision for your day, and feel free to attach five or so of your very favorite photos from your research so they know what you love. If the photographer is already booked on your date, you may want to see if they have an associate or can recommend another shooter with a similar style. Set up in-person meetings with three to five potential photographers who are available on your wedding date to look at more of their work and assess whether your personalities mesh. Be prepared to talk about your venue, wedding style and what you envision for your photos.
See a Few Full Wedding Albums
Don't base your decision solely on what you see in a photographer's highlights gallery or album. For good reason, photographers show prospective clients a portfolio of their best pictures, all from different weddings, so you're seeing the best of the best. The problem with that is you won't get a well-rounded idea of their work. Ask to see two or three full galleries from real weddings they've shot (not someone else at their company) so you can get a better idea of what your complete collection of photos might look like after the wedding. If you see that the full gallery photos are just about as good as the ones chosen in the highlight gallery (that is, they're all so good it's impossible to choose!), you're on the right track. And ask to see at least one or two complete albums of weddings that are in similar settings to yours. For example, if you're planning an indoor affair with dark lighting, don't just look at weddings shot outdoors in natural sunlight. And if you're planning to say "I do" on a beach at sunset, you'll want to see examples of that.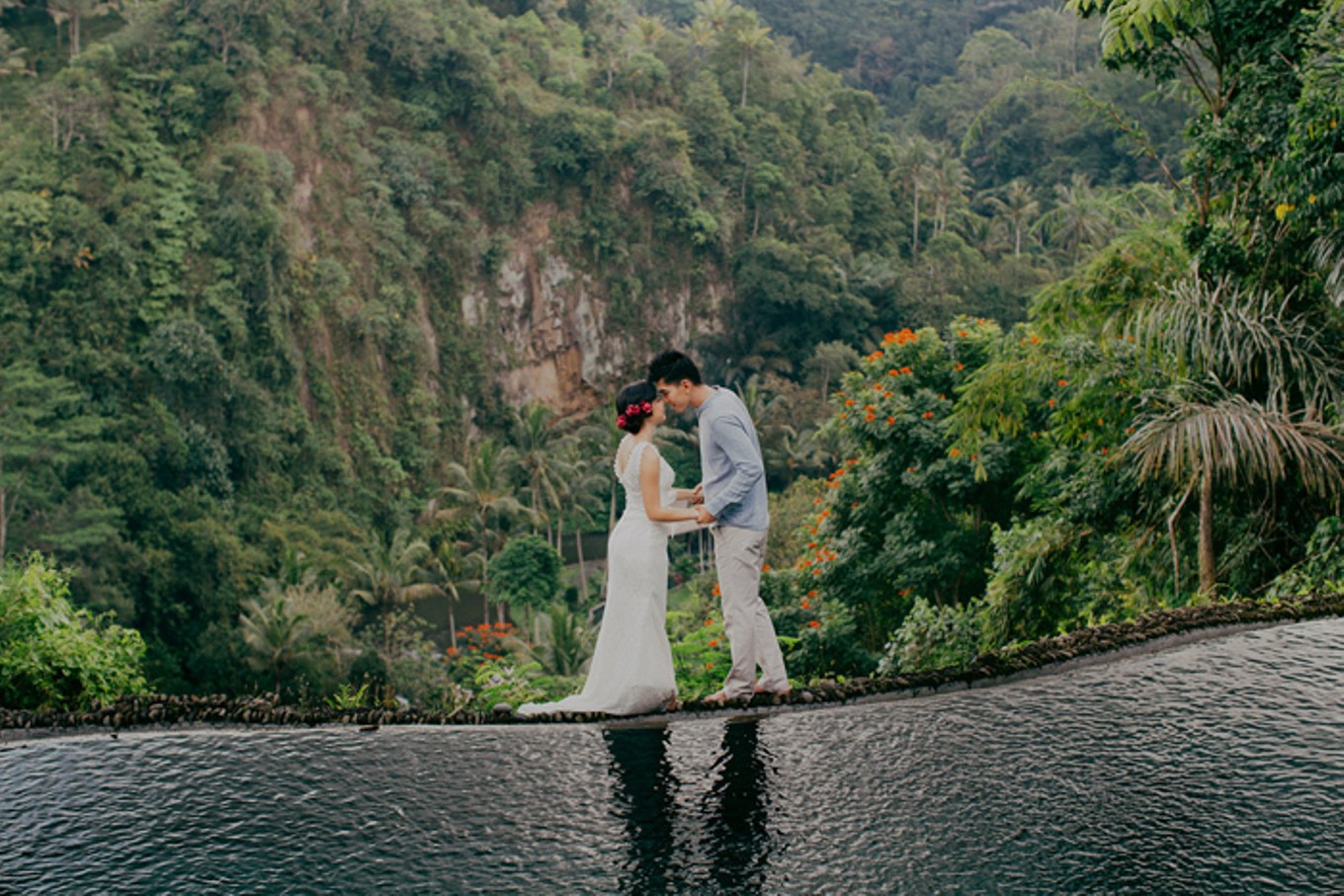 HOW TO CHOOSE A WEDDING PHOTOGRAPHER
Classic
The classic style is the most well-known and timeless photography style, which was most likely used for your parents' or even grandparents' wedding album. A classic wedding album usually has clean, carefully composed photos with perfect lighting. If you just love those classic wedding moments—like the first look, wedding kiss, and bouquet toss—and would like yours captured in the same way, then you should look for photographers with this style.
The downside of this style is that it can make your wedding album look "too similar" to other wedding albums. To tackle this, you can ask your photographer to add a certain twist to the pictures, so the photos can look more modern and less predictable. Another thing you can do is to let loose and have fun. Let your positive radiance shine through every frame.
Photojournalistic or documentary
These types of photographers are inspired by photojournalism and capture moments as they happen. They usually shoot pictures from a slightly different perspective than traditional wedding photographers, focusing on candid and spontaneous moments instead of posed portraits. If you don't enjoy posing in front of a camera, this style might be a good fit for you. The photos also give you documentary coverage, which will make you relive them easily in the future. However, this style might not be suitable if you want to take perfectly posed portraits.
Fine art or artistic
Fine art wedding photography is actually a bit hard to define, as the definition of art lies in the eyes of the beholder. The easiest way to tell a fine art wedding photograph is to take it out of the wedding context. Would the photo still be beautiful as a stand-alone piece of art? A fine art photographer usually has an artistic background and applies elements such as blurring or silhouettes into the pictures. With this kind of style, your wedding photos will surely be beautiful and won't look like anyone else's. The downside of this style is how it can get too artsy and abstract that it doesn't tell a wedding story like a wedding album normally would. One way to tackle this is to hire another, more conventional wedding photographer as backup.
Lifestyle
Lifestyle photography is more or less a mixture between documentary and classic wedding photography. Candid moments are mixed with of direction and styling. As a result, you can get relaxed and relatable photos. This style is increasingly popular these days, as a lot of couples wants to have candid pictures but also want the assurance that their photos will look good. Another important thing to consider is the format. Film photography is having a comeback in the wedding world thanks to its beautiful tone and colors, but it's not for everyone as it can be costly and more time-consuming to edit. Carefully research the perks of both digital and film photography before you make a decision.
STEPS TO CHOOSING THE RIGHT WEDDING PHOTOGRAPHER
It pays to have the best
While you can get a good deal with a photographer who's new to the industry, you do need to find someone you trust to get it right. Perfection comes with experience.
"It sounds obvious but nail down your photography budget before reaching out to wedding photographers." Says Jay Rowden.
"Be prepared to break the bank if you find a photographer whose work you really love".
Browse your photographer's portfolio
Look through the portfolio of any photographer you're considering. You won't just be looking for examples of the weddings they've captured. You'll also be looking at their different styles and approaches. When you find the photos that resonate with you, you've found your style and photographer.
"Before you meet your favourite photographer, ask them to bring along a few sample albums of their work," Says Jay Rowden.
Decide on the right style
A professional photographer distinguishes all the subtleties of shooting a wedding. They'll know exactly when to photograph your groom as he first sees you walking down the aisle, how to achieve the perfect confetti shot, and what to do in the event of rain. A creative and flexible approach often results in the most breathtaking and brilliant wedding photographs.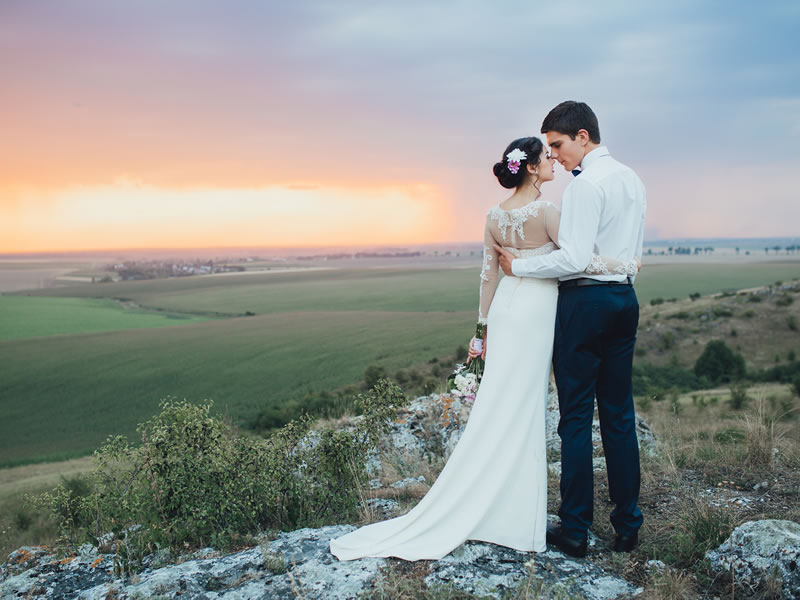 TIPS FOR PICKING THE PERFECT WEDDING PHOTOGRAPHER
Book early
Top wedding photographers in the UK can be booked not just months in advance, but years. Many will be taking bookings for one to two years in advance – popular summer weekends in peak season will be quickly booked up. If you are planning your wedding and have your date set, then now is the time to find your wedding photographer and get them booked as quickly as possible. Don't be left disappointed by finding a photographer who you love, but are already booked up on your wedding day. Once your venue and wedding date is confirmed, get straight onto your wedding photographer and get them booked.
You would recommend them
A great way to know if you have found your perfect wedding photographer is to ask yourself 'would I recommend them to a friend?' If the answer is yes, then get them booked. If you have any doubts then consider the reasons you wouldn't – if you wouldn't recommend them to a friend then why would you hire them yourself?
Ensure you pick a wedding photographer that you love, someone you trust and someone you know will capture the day how you want it captured and will present it beautifully.
You trust them
Knowing you can trust your photographer and leave them to do what they do best is so important. After meeting them, make sure you leave feeling confident and happy, ensuring they answer any questions no matter how silly they may be. Go with your gut – if something doesn't feel right then perhaps go and meet another photographer you like too.
You don't want to be worrying about them on your day, or making sure they capture certain shots or directing them around. Speak to them about formal family shots you may want before hand, then just let them get on. They have had years of experiencing doing this, let them do what they do best. When it comes to creative fun shots with you and your partner, go with the flow, have fun and trust your photographer.
Ask to see a complete wedding
When looking at different photographers they will show a range of different photos that represent their best work. If you love their work and meet up with them then make sure you ask to see two or three completed wedding albums that were given to the couple. You are looking for consistency –  you want a whole album that's amazing and tells a beautiful story, rather than just four or five impressive photos.