Bathroom Electrical Wiring: Issues and Safety Precautions
Make sure to have safe bathroom electrical wiring with these tips
According to the Consumer Product Safety Commission, tens of thousands of fires happen all over the United States every year that are caused by electrical issues. Besides the millions of property damage that are incurred, there is also the unfortunate loss of life that happens in hundreds of these kinds of cases. There are also hundreds of consumer products that can cause electrocution and death (especially with bathroom electrical wiring), so it is best that the appropriate safety precautions are done in order to prevent any sort of unfortunate incident to happen.
A Volatile and Dangerous Mix
It is a well known fact that water and electricity just do not mix. It is a very deadly combination. So you can just imagine the kinds of dangers you have with bathroom wiring systems. Of course, no one can eliminate entirely the need for bathroom electrical wiring systems – with outlets for dryers, heaters, lights, and all other electrical appliances you use in the bathroom, all you can really do is to observe the proper safety precautions and steps to make sure that the electrical system in your bathroom is safe for you and all who use the bathroom.
Some Safety Tips:
Have a GFCI device installed
The National Safety Code requires the installation of a Ground Fault Circuit Interrupter or GFCI to be able to deal with cases of having to install outlets in bathrooms. This is to minimize the incidence of electrocution or any other electrical incident that involves the mix of water and bathroom electrical wiring through sockets and outlets. GFCI units are designed to cut off the supply of electricity to an outlet when there is a loss of current in a circuit.
Have some exhaust fans installed
Imagine coming home from a long and hard day's work to enjoy a relaxing time in the tub, or maybe just taking a long, warm shower. Your body dissipates heat during these times, so leaving a bathroom un-ventilated will cause moisture and humidity to accumulate inside. This poses danger to your bathroom electrical wiring, so it is best to install an exhaust fan so that air can circulate inside the bathroom space and no steam or moisture will build up inside.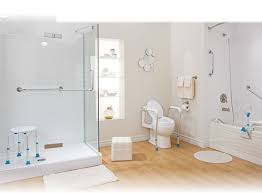 Sockets
Sockets are not allowed in bathrooms or shower rooms (apart from shaver-supply units) unless they can be fitted at least three metres from the bath or shower. Electrical shaver points must be a safe distance (in meters) from the bath or shower to avoid splashes
Lights
Enclosed ceiling lights are preferable to the ones that hang down. All light fittings, that are not enclosed, should be out of reach of someone using, or still wet from using, the bath or shower.
Everyday light switches are a danger because of dampness and wet hands. A ceiling-mounted pull-cord switch is the safest option.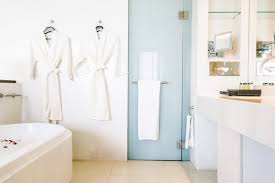 Address electrical issues immediately.
If you notice frequent flickering of lights or an abnormal electrical spark when you plug in a small appliance, have your electrical system checked by a professional home electrician. The same is true for exposed wires or busted bulbs.
Unplug or turn off unused electrical items.
Nothing is safer than unplugging appliances when they're not in use. Moreover this prevents a potential electrical issue.
Don't handle electrical appliances with wet hands.
Tap water is a good conductor of electricity. Make sure to keep your hands dry whenever you use your electrical razor or handheld hair dryer.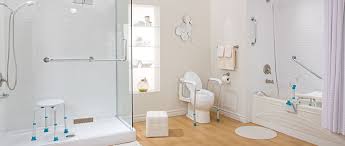 Water and Electricity is a Dangerous Combination
GFCIs are designed to cut off the flow of electricity in the presence of water, which is why they're such valuable inclusions in every bathroom. Sensing danger and responding to it is the core function of GFCIs, and this function  could save your life.
However, GFCIs aren't infalible; they can become damaged or simply wear out. And this is why Experts In Your Home has been urging readers to test their GFCIs every month – room by room and in every room. Like smoke detectors, they must be in good condition to respond to an emergency.
Moreover, it's not wise to become lackadaisical about electricity and water – ever – and here's why: When it's dry, your skin is more resistant to electrical current than you may realize, especially if it's thick, calloused and dry.
Water changes the equation entirely: water reduces your body's natural resistance to water; total immersion eliminates it. This helps explain why accidents in which an appliance falls into a full bathtub while someone is bathing almost always results in electrocution.
Electrical safety tips homeowners should know
Electric maintenance is an important requisite in our household, but can be very dangerous if handled callously. Most of the electricity-related accidents that occur in homes are due to lack of knowledge on electrical safety & knowhow. Here are some tips to prevent accidents & electrical oversights:
All electrical equipment should be in proper working condition
One of the primary causes for short circuits in the electrical system is equipment that is not working or plugged in properly. Hence, all the electrical equipment in the house should be checked for malfunctions.
Main Power Off
Power switched on during any work on the home's electrical system can be a major reason for shocks & accidents. Always switch off the main power during major electrical maintenance activities. In case of small power outlet related maintenance, always switch off the plug point and work.
Warm & Cold Power Outlets
At times, warm power outlets can signal a variety of problems, from overloaded electrical circuit to shot up wiring. Hence, check all the outlets in the house once every month by placing your hand on the outlets in your home. Warm or hot outlets signal trouble.
Fire Extinguisher
Always have a fire extinguisher handy in the house. Water is a good conductor of electricity & hence should never be used to put out any electric fire, big or small.
Ground Older Appliances
Your old appliances might develop grounding issues as a result of normal wear & tear. This can put you at a risk of shock. Ensure all of your appliances have three-pronged plugs that can properly connect to a grounded outlet. Any kitchen appliances with just two-pronged plugs should be replaced.
Expert Intervention
In case of any doubt, one should consider the help of an expert. Always reach out to a well-trained electrician if an issue seems out of hand and needs more intervention.
Rooms with running water need to be equipped with Ground Fault Circuit Interrupters
GFCI's shut off the electrical current from a circuit whenever it detects that the circuit has become a shock hazard. It is imperative that they are installed in the bathroom, kitchen and laundry room to avoid any mishaps.