Electrical Home Safety Inspections
What You Need to Know About Electrical Home Safety Inspections
When was the last time your home had an electrical home safety inspection? Can't remember? Not sure when you need to have one? According to the Electrical Safety Foundation, there are four major times when your home should be inspected by a licensed residential electrician
If you are purchasing a home (new or older)
If your home is more than 40 years old
If you are installing a new appliance (think washer, dryer, refrigerator, entertainment system, home office, etc.)
If your home is undergoing renovations
Apart from that, anytime you feel there are electrical problems in your home that could pose a safety hazard, you can always call us in for an electrical home safety inspection just to make sure. It is absolutely critical that these home electrical safety inspections be done by a licensed electrician because
electricians have years of experience solving common problems with residential electrical systems. Our first concern is maximizing the safety of your electrical system and preserving the level of safety it was engineered to provide.
Always have the electrical system assessed by a professional before purchasing a home. A professional electrician can accurately assess the strengths and weaknesses of your electrical system and provide a comprehensive plan to bring it up to optimum condition.
Most large electrical problems can be solved cheaply and easily if they are caught in the early stages. If you think you may have an electrical problem be sure to have it repaired immediately
An Electrical Home Safety Inspection: What We Look For
During an electrical home safety inspection, these are some of the important aspects of your home's electrical system that we'll examine
Electric Panels
This is the electrical nerve center of your home. Whether it's in the garage, the basement, the utility room or somewhere outside, we will thoroughly examine the fuses and/or circuit breakers for proper connections, damage, age, rust, residue, smoke etc. We'll check whether or not the panel is providing sufficient electrical capacity for your home's needs too. We will also check whether or not your electrical panel is a brand that has been recalled or discontinued.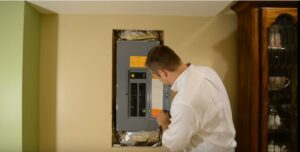 ELECTRICAL SAFETY INSPECTION
What is an Electrical Safety Inspection ?
An Electrical Safety Inspection is done by a licensed electrician to ensure that your home or office's electrical system is up to code and that all electrical systems, including wires, electrical panels, and electrical components are working properly and hazard-free
To prevent fires and harmful accidents, it is important to make sure that all of your electrical systems meet legal safety and industry standards. Electric comes into your home or business to perform an electrical safety inspection, there are several key components we look for to give you a complete and accurate assessment of your entire existing electrical system
Once the thorough assessment has been completed, we can then provide you with information on what needs to be repaired or replaced to meet optimal standards.
Electrical Safety Inspection Benefits
Having the electrical system of your business or home inspected offers many critical safety benefits.
Electrical safety inspections:
Offer you with peace of mind knowing that your electrical systems, components, and appliances run efficiently and safely at all times.
Help to ensure that your electrical system meets all legal safety standards.
It can give you peace of mind about your overall safety and investment before purchasing a home.
Electrical inspections and corrections can actually help you reduce your annual electric bills and save on energy.
Having an inspection done can correct and greatly reduce the risk of fires and other electrical disasters.
Electrical inspections often find that certain components (like electrical panels) may be outdated or defective and need replacing before disasters occur.
Having an inspection done can also help to identify existing mistakes made by previous electricians and homeowners that may pose a threat to your home or building.
Inspections help to spot insufficient fuses and breakers before they start fires.
What We Inspect
We check to make sure that all electrical switches and outlets function properly.
We thoroughly check for shock/electrocution hazards so they can be eliminated.
GFCI protection where required
AFCI protection where required
Gas line bonding
Home electrical system grounding
Weather rated outdoor outlets
Breaker box inspection
Smoke detectors function and location
Loose or non-functional devices
Check for appropriate surge protection requirements.
When Do I Need an Electrical Safety Inspection?
Knowing when the right time to have an inspection done is a critical part of caring for your electrical system to ensure safety and efficiency. But how often should it be inspected, and are there certain instances where it definitely should be?
Before buying a home- Having an electrical inspection done before you purchase a home is a great way to prepare yourself to make educated decisions.
You have an older home- If your home or building is over 25 years old, it is a good idea to have an electrical inspection done due to equipment and key components becoming outdated or defective.
Renovation- If your home has undergone major renovations at any point in time, you should have your electrical system inspected to ensure all is in working order and installed properly.
DIY- DIY electrical work can be an absolute nightmare for your home's safety, much less efficiency. If you know your home has gone through some questionable electrical work, you should have it inspected by a licensed electrician.
Old Wiring/Electrical work- If you can tell with the naked eye that your home's electrical work may be outdated, get an inspection!
Noticeable Electrical Issues- If you have problems with lights flickering on and off in your home or the fuse blows when you turn on an appliance, it's time to have an inspection done.
New Appliances- New appliances can strain your electrical system and cause many electrical issues if your home isn't equipped for extra power usage.
Why & When To Get A Home Electrical Safety Inspection
Home safety is an important issue that not many homeowners think about, especially when it comes to the electrical system. electricians want everyone to have a safe and happy home so we want to help educate you on the importance of Electrical Safety Inspections, why you should get them, and when you should get them done.
How Often You Should Get An Electrical Safety Inspection
An annual electrical safety inspection will protect your home and family. The inspection should cover testing and visual inspection of every aspect of your home's electrical system including the following.
Electrical Safety For Pool Owners
Water and electricity don't mix, so safety around the pool is of paramount importance for any homeowner. Bad wiring and faulty pool lighting can threaten the life of your family and friends.
Electrical Safety Indoors
Main Service Panel – The main panel that houses the breakers will need to be upgraded about every 10 years for people who live in their homes and 5 for people who rent to a tenant. This panel supports the electrical load of the household, so for safety's sake, find a residential electrician who is qualified to inspect it and upgrade it for you.
GFCI Outlets – Ground Fault Circuit Interrupters are a type of outlet that cuts off power to the outlet when it senses water. Your electrician can install those for you if your home is not up to code or if you feel you would like them throughout the house for safety.
Loose Wiring – Faulty wiring is the number one cause of house fires, so make sure you get an electrical safety inspection which covers wiring, GFCI outlets, the service panel, and everything else.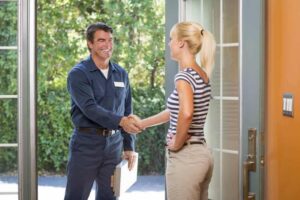 Whole House Safety Inspection
With electrical wires running through the walls and ceilings of your home, you might not be aware of an issue before it causes larger problems in your house. To ensure there aren't problems with your wiring and your home is as safe as possible, schedule an electrical safety inspection with an experienced electrician
What Electricians Check During a Whole House Safety Inspection?
Issues with your home's wiring system can pose hidden dangers to your family. To protect your entire household, it's important to schedule a whole house safety inspection.
During these appointments, you can expect an electrician to perform the following tasks:
Check the light bulbs to ensure the wattage is correct.
Examine the outlets to check their condition and prevent electrocution risks.
Inspect smoke and carbon monoxide detectors to ensure they're fully functioning.
Ensure surge protectors are fully functioning.
Check outdoor lighting and electrical components to make sure they work as expected.
Benefits of Whole House Safety Inspections
Having a whole house safety inspection performed can offer many benefits for your family. While you might think your wiring and circuit breakers are functioning properly, there could be problems you can't see that can cause larger issues later.
Some of the advantages of having an electrician perform a whole house electrical inspection can include:
Making sure electrical components are working properly and are up-to-date.
Finding and identifying outdated or damaged wiring.
Identifying potential fire hazards.
Looking for potential issues in a new home.
Finding ways to save energy and electrical costs.
Reasons Why You May Need A Home Electrical Inspection
You are asking "Is my wiring safe?"  When purchasing a century house, When purchasing a resale home, Before starting a Major Renovation Your insurance company is asking  "Is your wiring safe?"  Home Electrical Inspection for Insurance Purposes.
When Purchasing a Century Home
Electrical wiring whole house electrical inspection is important when purchasing a century home. It is sure that the original wiring cannot withstand the demand of modern living. Also, you should seriously question the number, and quality, of attempts to improve on the original wiring.
When Purchasing a Resale Home
A whole house electrical inspection is an excellent place to start when buying a resale home. Even though a house may have been meticulously wired when first built, unlicensed and unqualified work is often done as owners renovate, add equipment and build-on. The older the house, the bigger the risk that not only is the house not up to today's standards.
Before Starting a Major Renovation
If you are adding to your existing wiring, an electrical inspection at the beginning will inform you if your existing system can support your renovation plans, If not, electrical upgrades can be addressed most cost-effective as part of the renovation process.
Home Electrical Inspection for Insurance
Occasionally your insurance provider may ask for a home safety electrical inspection. This may happen when you are switch insurance provider. It can also can happen when you have been with the same insurance company for a number of years, often after a claim