How to Find a Cockroach Nest (and Get Rid of it for Good)
You've probably heard warnings about how quickly cockroaches can reproduce and spread through a house. When cockroaches take up residence in a home, it's because they've found conditions they like. A lot.
What Does a Cockroach Nest Look Like?
A roach nest isn't a tightly wound basket of twigs and grass like you might expect from a bird. And it's not the sort of carefully gathered nest of materials that you might expect from a mouse or rat.
Basically, a cockroach "nest" looks nothing like a nest. It's more like the roaches' messy bedroom, where everything's lying around in the same general area. Finding a cockroach nest means finding several (or several dozen) cockroaches and, probably, a few dead ones.
You'll also see plenty of roach droppings and old egg cases lying around. Cockroach droppings are tiny and look like coffee grounds or black pepper. Droppings start to collect in areas with high activity. You might even find it inside kitchen appliances.
Where Do Roaches Live?
Most cockroaches love humid places. Depending on the type of cockroach, some like it hot and some stick to cooler, damp places. But one thing just about all of them have in common is a need for moisture.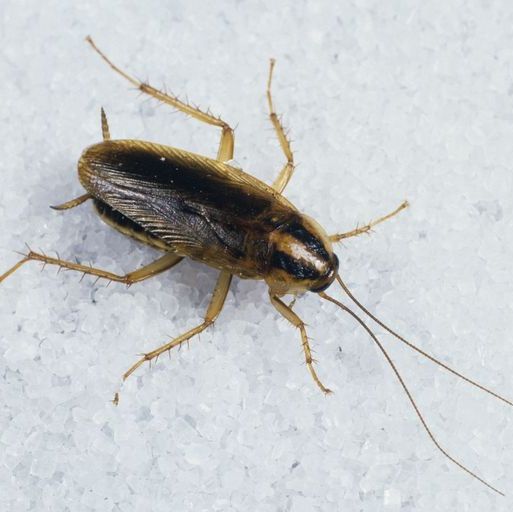 How to Get Rid of Roaches
There's nothing worse than flicking on the kitchen lights and seeing (or hearing) the scuttling legs and antennae of cockroaches on your countertops, cabinets, or floor. Not only are these pests a major eyesore, but they can contaminate your food, transmit dangerous bacteria, and worst of all, survive even the best-intentioned eradication attempts. That's why we turned to an entomologist and pesticide applicator to find the fastest and most effective way to get rid of roaches. Regardless if you're tackling one sneaky pest or a whole army of cockroaches, follow this five-step guide to shut down even the most stubborn infestations.
Identify the problem area and seek professional help if needed.
Out of over 4,000 cockroach species in the world, most Americans encounter only one or two types: German cockroaches and American cockroaches.
Since cockroaches can taint your food and countertops with illness-causing E. coli and salmonella, don't take an infestation lightly. If you're struggling to eradicate roaches or identify where they're coming from, you may need to bring in pest control professionals to pinpoint the source of the issue
Cut cockroaches off from their food supply.
Just like people, these pests need sustenance to survive. Unlike people, they can live off almost anything left out for them, like unopened food, debris, and even crumbs.
Eliminate any and all hiding places.
In addition to food, roaches need harborage to thrive. Their favorite nooks and crannies include stacks of paper and cardboard boxes, so recycle any materials you have laying around. Cleaning up any clutter will deter roaches from hanging around — or coming back.
How to Get Rid of Cockroaches
Few things are more frustrating than a roach infestation. These persistent pests will make themselves at home in your kitchen, bathroom, and other living spaces as they search for food. Unfortunately, they multiply fast – intensifying the problem. If you're tired of sharing your home with these cringe-worthy critters, then let's figure out how to get rid of roaches for you!!
Most Common Cockroaches in the US
There are a few different species of roaches that are present here in Florida, with the most common being the German cockroach and the American cockroach. German roaches are dark brown and usually 1/2" – 5/8" in size, while American roaches are darker and bigger at 1-1/2" to 2". Both types of roaches are active year-round, using coming out predominantly at night to find food and water. Roaches are nocturnal creatures and usually spend their days hiding away in dark, protected spots around your home.
What Attracts Cockroaches to Your Home
No matter the type of pest – whether it's roaches, ants, termites, or rodents – they're all most likely searching for food and water sources which they can easily find in your home. Roaches, in particular, are drawn to warm,
How Roaches Enter Your Home
Roaches are attracted to your home for a variety of reasons (listed above), but attraction is only the first part. They have to actually be able to get INTO your home to wreak havoc
Thoroughly Clean Your Home
This may seem like a given, but roaches are attracted to dirt and filth because they're always on the lookout for new sources of food. The easiest way to keep roaches out of your home is by keeping it clean
Where to find cockroaches at night
We all know that cockroaches are not friendly household companions. They disturb your day, contaminate your food, and when you try to kill them, they run away to places you can't reach them.
They are experts of circumvention, and they can run around in the tiniest nooks and crannies, especially in dark places. There are over 4000 species of cockroaches, but only 40 of these species are considered house pests. They are most attracted to food and water, which are highly present in your home.
Even when you try and protect your home from these pesky creatures, they always find a hideaway place in your home. There are so many places around your home that they can be in, these are some of their favorite places.
They lurk in pipes
Because cockroaches like water, they will hang around pipes. Cockroaches need water to keep them hydrated, and can only live up to a week without any water.
Parts where pipes come into homes like through the walls, floors and behind cabinets, are often moist and good places where there is strong humidity that can be very attractive to cockroaches. Always make sure to check for any leaks and repair it as soon as possible to avoid cockroaches and other pest infestation.
will natural cockroach repellent works?
How to kill cockroaches naturally with baking soda
Who would have thought if baking soda may be the solution to remove pesky pests like bed bugs and cockroaches at home? Besides useful for used in baking cakes and pancakes, baking soda is also known to be a great ingredient to make roach traps because it's effective and safe to use around pets if you have any at home.
Method: Take equal parts of baking soda and a pinch of sugar in a shallow bowl, then place it near to the cockroach-infested areas or in where roaches are usually roaming at your house. The sugar attracts the cockroaches while baking soda will kill them. Once they eat it, baking soda will react badly by creating gas inside of the stomach and cause its stomach to burst. All you have to do afterwards is just clean up the dead roaches.
How to kill cockroaches naturally coffee grounds
Don't throw out those used coffee grounds! A lot of people already know coffee grounds can be composted for your garden, but little they know if coffee grounds can be a good natural repellent for cockroaches at home.
Method: Cockroaches do not like acids produced from coffee grounds. Sprinkle coffee grounds near to the entry points that usually cockroach passed. This natural repellent may keep roaches from getting inside your house.
How to kill cockroaches naturally with garlic
The aroma of garlic has long been known to have repellent effects to many insects, including cockroaches. Garlic has a pungent smell that cockroaches don't like.